Foil packet camping meals are an all time favorite because they're super easy to make with very little cleanup! Also called hobo dinners, these easy peasy foil pouch recipes take just a few ingredients, wrap 'em up in a aluminum foil, and throw on the campfire or grill.
Foil packet recipes are all the rage today because they only take a few simple ingredients. Your campfire, grill or even oven does the rest. The foil packet (or pocket) creates it's own little dutch oven that allows the food to steam without excess moisture.
But these hobo meals make cleanup so much simpler. Just eat right out of the foil pouch!
This cooking method allows you and your family more time spending more time having fun than cleanup and washing dishes.
How to get started making your foil pouch camping meals
We'll start with the obvious, aluminum foil. Personally, I prefer the heavy duty aluminum foil because it is made for direct flame and intense heat cooking. Also, the thicker foil helps to avoid leaks due to accidental punctures or tears. Really, in this case, you do get what you pay for.
You could also use aluminum foil grilling bags. But if you want to cook for a pot luck or large family, you can most certainly pack everything in aluminum pans with covers.
You'll also need some non-stick cooking spray. I use non-propellant organic olive oil cooking spray to coat the inside part of the foil to keep food from sticking. Personally, I think it tastes better than those other competing nonstick cooking spray brands. Plus, being it's a non-propellant, it's better for the environment.
Also, you'll need long handle tongs so you can place, turn and remove your foil dinner packets without burning your fingers. A good pair of grilling gloves might be a good idea as well; especially when reaching into hot fires or ovens.
How to make a foil packet or foil pouch
Foil pouches are quite easy to make. In fact, they're kind of fun like folding origami; but much simpler.
First, rip off two long sheets of aluminum foil; about 18″ each.

Then, take the two sheets of foil and stack them shiny side together and lay them onto the table or counter.

On one of the long sides of the foil sheets, fold them together in half inch folds towards the opposing long ends; about 4 times.

After the folds are done, carefully separate the two sheets without undoing with the folded end. Shiny side down, lay the aluminum foil onto the counter or table.

Spray an even coating of nonstick cooking spray (mentioned above) and load up the middle with the ingredients of whichever foil pouch recipe you're making.

Once all the ingredients are arranged in the middle, take the two opposing ends and bring them together and fold multiple times together to create the top seal.

And finally, take each of the two ends, folding them together multiple times to seal and also to create the handles.
And VOILA! Now the foil pouch dinner is ready to be put on a hot bed of coals, on the grill or on your oven rack.

Cooking your foil packet camping meals
Cooking is the best part! Simply place your foil dinner packets directly on a bed of hot coals or campfire cooking grate. Or, you can set them on the grate in your preheated grill or oven.
You could also cook your hobo packets in a cast iron skillet or griddle. For how much time each camping meal takes depends on the ingredients and what each foil pouch recipe dictates.
How to eat out of a foil packet or pouch
When your foil packet camping meal is finished cooking, carefully remove it with your oven mitt and tongs. I will usually slide a cutting board or sturdy plate underneath to support them until I get them to the table.
Allow it to cool a couple minutes before grabbing onto the foil. Once it's cool to touch, carefully separate the top folds. You may need a sharp knife to make a slit to pull it apart if you prefer. Be very careful as the steam can burn your fingers.
Do not not open the ends if you intend to eat your food right out of the pouch.
If your fellow diners are going to be sitting in their camp chairs to eat their hobo meal, you may want to set each foil dinner onto a paper plate or large paper bowl as to not burn their hands from the bottom of the foil.
Otherwise, if you're eating right on a picnic table or home table, just set your foil dinners right on the table cloth. Now, your foil pouch dinners are ready to dig in! All you need is a fork and napkin, table spices, salt and pepper and maybe a few condiments. And of course, everyone needs a hot sauce sampler pack to satisfy everyone's palette!
Now that you know how to make your foil packet camping meals and eat them, let's check out some amazing foil dinner recipes. This compilation of foil packet camping meals are from some of our food bloggers worldwide! We hope these inspire you to plan your next camping meals or backyard bbq!
So, let's dig in and eat!
PINTEREST
This blog article contains affiliate links. Full disclosure here.
20 Quick & Easy Foil Packet Camping Meals
CAMPING PRO TIP:

For best results and more even cooking, use heavy duty aluminum foil or aluminum grilling bags to cook directly over campfires or on the coals. Plus, the heavier foil is less apt to tear or get holes easily.
Lumberjack Breakfast Foil Packets
Customizable breakfast foil packets are a super simple and tasty breakfast for your hungry log splitters and campers! Each kid or guest can make their own to their liking. You can even pre-assemble ahead of time then add the eggs right before cooking and the cheese near the end. Cook these bad boys over a campfire, on a grill, or in your oven. (Seeking the RV Life)
---
Campfire Breakfast Foil Packets
These breakfast bowl is all about the toppings! But, it's also delicious even without toppings. However, if you have the extra time and ingredients handy, you can get real creative. Some great toppings for your breakfast bowl: peppers of any kind, bacon bits, fresh spinach, chopped tomatoes, chopped onion and chives, salsa and of course, get out the hot sauce! (Create Kids Club)
---
Tinfoil Packet Philly Cheesesteak
Come to daddy! This Tinfoil Packet Philly Cheesesteak recipe includes all of those wonderful things you get on that big homie roll (minus the hogie roll). With thin strips of sirloin steak, stoplight peppers, and provolone, how can you go wrong with this foil packet camping recipe? Eat it naked or tuck it all inside a bun or wrap. (Homemade Heather)
---
Easy Chicken Fajita Foil Packets
Another mouthwatering low carb, gluten free, keto and paleo meal for those who are health conscious! These Chicken Fajita Foil Packet is that they require minimal prep, are easy to put together, and are very adaptable with other quick cook veggies. They also cook in 25 minutes and serves up as a complete meal. (Budget Delicious)
---
Lemon Chicken & Asparagus Foil Packs
There's a whole lotta whoa going on here in this foil packet camping meal! This simple and flavorful Lemon Chicken & Asparagus Foil Packs are an easy and incredibly delicious 30-minute meal you can either grill, or bake any time of the year. (Creme De La Crumb)
---
Foil Pack Mango Mojito Chicken
Mango and Mojito is a match made in tropical heaven! These foil pack mango mojito chicken meals are as easy as mix everything in a bowl, place into foil packs, and put on a bed of campfire coals or the grill. And of course,, there's less prep time, and virtually no mess to clean up leaving you more time for an evening bike ride! (Meal Plan Addict)
---
Grilled Italian Sausage & Veggie Foil Packets
Check out this little Italian foil packet beauty! It's loaded with baby potatoes, sausage, baby Bellas, grape tomatoes, fresh Feta and lots of great Italian seasonings! It's just waiting for you to make these up for your campers, big and small. Lots of variations you could make with this foil packet camping meal recipe! (Fannetastic Food)
---
Santa Fe Chicken Foil Packets
These Santa Fe-inspired chicken packets are no exception. Packed with simple, everyday ingredients, this delicious dish brings together chili-spiced rice, black beans, corn, peppers, and a salsa- and cheese-topped chicken for a complete meal, all neatly wrapped up and grilled. (Laura Rege, Delish)
---
Beef Burger & Potatoes Hobo Packets
These delicious hobo dinners are perfect for cooking a mixture of carrots, potatoes and your meat all in a foil packet. It is fun to make and an easy dinner option for the summertime! (The Recipe Critic)
---
Grilled Pineapple Chicken Foil Packets
These awesome camping foil packets are stuff full of chicken, pineapple, peppers, and onions slathered in a sweet and savory teriyaki sauce and cooked on the grill! You can swap out different proteins and other simple ingredients yet totally irresistible ingredients. (Creme De La Crumb)
---
Stuffed Peppers on the Grill
If you're vegetarian, these foil packet grilled stuffed peppers on the barbecue or over campfire coals will hit the spot! These peppers are stuffed with lots of vegetables and rice for a heartier meal. No matter how you cook them, these grilled poblano peppers are amazing. If you're into the carnivore seen, just add ground beef or finely shredded chicken. (The Typical Mom)
---
Butter Garlic Herb Steak Foil Packets
BEEF! It's what's for dinner! These Butter Garlic Herb Steak Foil Packets will melt in your mouth! And the hearty veggies are wrapped to perfection with butter, garlic and herbs. Toss this amazing hobo packet on hot campfire coals, on the grill or in the oven and VOILA! Dinner is served! This is definitely one amazing meal that you don't want to miss out on! (The Recipe Critic)
---
Shrimp Boil Foil Packets
Lots of goodness going on here for low country boil lovers! The traditional shrimp boil is converted to an easy peasy foil packet dinner option. This delicious campfire meal is packed with shrimp, andouille sausage, corn on the cob, and baby red potatoes. It's packed with so much flavor and just the right amount of heat! (Damn Delicious)
---
Caesar Grilled Salmon Foil Packets
These Caesar Grilled Salmon Foil Packets are the perfect way to enjoy seafood on the grill this Summer. Grill salmon in foil to release and savor every bit of flavor! This tasty high protein meal is filled with salmon, tomatoes, artichokes, and sweet peppers. It's the easiest and most delicious grilled dinner ever! (The Cookie Rookie)
---
Coconut Lime Shrimp Packets
These Coconut Lime Shrimp Packets are packed full of scrumptious, summery, tropical flavors that takes less than 15 minutes to cook over your campfire, on the grill or in your oven. And if you're not into shrimp, you could swap out for cubed chicken or other meat protein. (The Baking Fairy)
---
Foil Pack French Dip Sammies
These Foil Pack French Dip Sandwiches are great to make ahead of time. They're perfect for hungry campers who have been hiking or kayaking all day. These French Dippies make such a fun, rib-sticking dinner! They're SO simple and everyone will love getting their own packet of "miniature" sandwiches! Not to mention, who doesn't love having a side of au jus to dip your sammie in? (Chelsea's Messy Apron)
---
Garlic Butter Mushrooms and Gnocchi in Foil Packets
There's a whole lot of pasta and potato belly busting' deliciousness going on in these mushroom and gnocchi foil packet dinners! If you love garlic, butter and fresh herbs, that just makes it all the more better! (Eat Well 101)
---
Grilled Hawaiian BBQ Chicken Dinner
I grown to love this amazing food blogger's recipes that I just had to include her Hawaiian BBQ chicken recipe! The sweet and tangy pineapple barbecue sauce smothered on the chicken cooked with delicious pineapple and summer veggies. Oh yum! We look forward to making these delicious camping foil packet meals and you should too! (The Recipe Critic)
---
Grilled Shrimp & Vegetable Grain Foil Bowls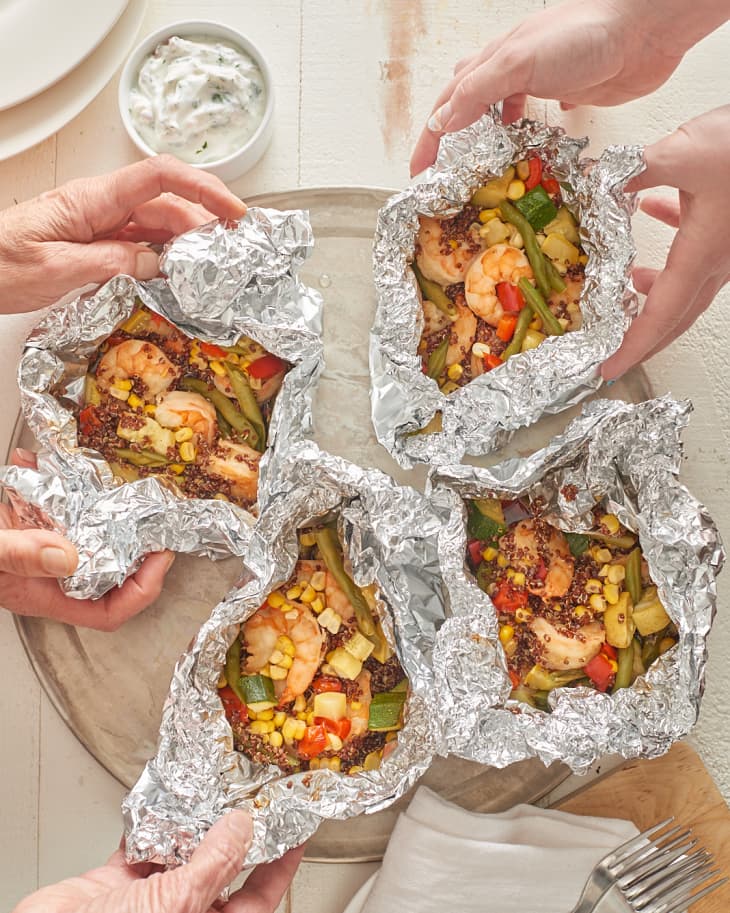 You just went grocery shopping! And now you have a fridge full of healthy farm fresh veggies that are just waiting to be cooked. With a roll of aluminum foil and some culinary creativity, you can design your own protein bowl foil dinner! And guess what? Cleanup is a breeze! (Kitchn)
---
Easy Foil Packet Nachos
I'm crying! Dan's crying! But they're happy tears because nachos are one of our favorite snackie meals ever! These foil packet nachos are super easy to make but even easier to eat! They're loaded with all the makings for the perfect nachos. Build them in foil with your choice of meat, maters, beaners, green chiles, cheese and more cheese! Just lay them on the campfire coals or grill and Buena Nachos! (The Cookie Rookie)
---
Wrapping up these amazing foil packet camping meals
So, what do you think about those mouthwatering foil packet camping recipes!? Don't they make you want to run out to get a big roll of aluminum foil, a whole bunch of ingredients and make them? What is your favorite? We'd love to read your comments. I can tell you they all are amazingly appetizing and on our list of camping recipes!
AMAZON DISCLOSURE: This website is a participant in the Amazon Services LLC Associates Program, an affiliate advertising program designed to provide a means for us to earn fees by linking to Amazon.com and affiliated sites.